HOMEABOUT USOUR EVENTSHOW CAN I HELPCONTACT US
About Us
The story of We're Glad You're Here! begins with the personal story of my mother, Vivian, when she required nursing home care. Elder care facilities were new to me. I was struck that so many medical resources were dedicated to caring for my mother physically, but few, at this critical time of her life's journey, for her soul. I vowed to make up that difference.
But it seemed many residents did not have a family member to frequently visit, listen, or bring a friend to socialize or share a Bible. As far as uplifting entertainment, it was rare, if it existed.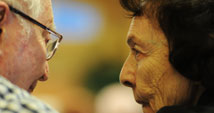 When my mother passed on to her heavenly reward, something began to stir in me. It was the thought of the others still there. What could I do about that? I wasn't everybody's daughter. But I felt a calling.
Raising a large family taught me that procrastination is not an option. So I started in a small way, by enlisting those closest to me, some friends, my grown children and their spouses, to help with everything from musicianship and photography to accounting. Others from my church joined us.
Today, many people are involved. We are incorporated as a non-profit, charitable 501(c)(3) organization. About five times a month, 15 of us arrive at a senior care facility in the Portland area to host a faith-based Christian musical event, enjoy some bakery treats, offer welcome gifts, and visit with residents. Please join us sometime, and see for yourself. You'll know us because we'll be singing "We're Glad You're Here!"