HOMEABOUT USOUR EVENTSHOW CAN I HELPCONTACT US
Our Events
Joy and informality. Personal sharing and uplifting musical entertainment. Prayer, singing and socializing that's comfortable for Christians and non-Christians alike. That characterizes every We're Glad You're Here! event.
Typically, we introduce ourselves and open with a personal story of why we're here. We sing our theme song, We're Glad You're Here!, to welcome everyone, and to warm up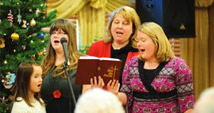 our instruments. Next an instrumental soloist on piano, violin, or even bassoon will play a familiar hymn. An accompanied singer might perform another, followed by sharing his or her personal story. We offer and serve bakery goodies and give gifts such as Valentine and Easter baskets, walker totes, and other useful items.
We play and sing favorite hymns. We provide songbooks and encourage singing by all who wish to sing with us. Our events are fun, and afterward we socialize with residents.
All in all, the entertainment is approximately an hour and the visiting time is guided by our hearts.
While we appreciate support to help defray expenses and expand our reach within Oregon, no collections are taken or appeals made for our work during these events.
| Date | Time | Location |
| --- | --- | --- |
| Friday, June 28th | 2:30 pm | Miramont Pointe |
| Tuesday, July 16th | 2:00 pm | Courtyard at Mt. Tabor - Assisted Living - The Park |
| Tuesday, July 16th | 3:30 pm | Courtyard at Mt. Tabor - Indep Living - The Plaza |
| Monday, July 22nd | 3:30 pm | Parkrose Chateau |
| Friday, July 26th | 2:30 pm | Miramont Pointe |
| Tuesday, August 6th | 2:00 pm | Courtyard at Mt. Tabor - Assisted Living - The Park |
| Tuesday, August 6th | 3:30 pm | Courtyard at Mt. Tabor - Indep Living - The Plaza |
| Monday, August 19th | 1:30 pm | Parkview - Independent side (birthday themed) |
| Monday, August 19th | 2:45 pm | Parkview Johnson Center |
| Friday, September 6th | 3:30 pm | Parkrose Chateau |
| Friday, October 4th | 3:30 pm | Parkrose Chateau |
| Monday, October 21st | 1:30 pm | Parkview - Independent side (**Tentative**) |
| Monday, October 21st | 2:45 pm | Parkview Johnson Center (**Tentative**) |
| Friday, November 1st | 3:30 pm | Parkrose Chateau |
| Friday, December 6th | 3:30 pm | Parkrose Chateau |
| Monday, December 16th | 1:30 pm | Parkview - Independent side (birthday themed) |
| Monday, December 16th | 2:45 pm | Parkview Johnson Center |